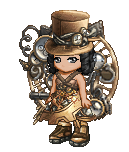 Deep in Gaia's past, a society of steam and clockwork practiced a blend of magic and machining that has long since been lost to the ages - or has it? Gaian archeologists recently stumbled upon the pinnacle of their art: a Time Machine capable of transporting the wonders of the past to our own time. They have recovered many treasures: clockwork garments, copper wings and fantastical chronographs.
Tags: tm time piece december 2007 dec 07 mc collectible tan brown metal metallic sci fi steampunk costume hat top skirt boots shoes bottom wings premiummc boot shoe wing
Community content is available under
CC-BY-SA
unless otherwise noted.